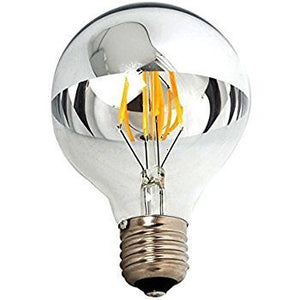 3 Pack - Modvera 60w Equivalent LED Half Chrome G25 6W Silver Bowl Globe Shape Medium (E26) Base Warm White 2700K, 630 Lumens, Dimmable LED Filament Vintage Bulbs.UL Listed RoHS Compliant
Regular price $17.95 Sale
? Energy Efficiency Cost effective, easy installation 6 watt LED decorative edison style light bulbs (globe light bulbs) that will not just save electricity bills, but also save the planet and prevent wasteful light emissions. ? Omni-Directional The top half is frosted and chrome coated so as to direct light downwards with silver mirroring,which it reflects light protect your eyes from the direction light hurting.The half chrome light bulb provides soft light which is helpful for anyone suffering from eye strain; ? Traditional Elegance With its warm glow of welcome and class, this bulb is perfect for your elegant bathroom lighting, vanity lights, decorative lighting, or bathroom lighting fixture requirement. ? Warranty Guaranteed lifespan of 30,000 hours backed by Modvera's own seller warranty. Modvera Lighting has been committed to bringing the excellence of our LED light bulbs to your home and/or business and we stand behind our products 100%. Modvera bulbs are UL Listed, and RoHS compliant with a CRI index of over 80.
DIMMABILITY - Dimmable from 10% to 100% on LED Dimmers exclusively. Recommended dimmer by manufacturer: Lutron LED Diva Dimmer.
HALF CHROME SILVER GLASS BEAUTIFUL DESIGN - Elegant G25 style globe LED filament bulbs for invigorating lighting. Our decorative light bulbs have omnidirectional lighting with vintage design that exudes true lighting elegance.
HIGHEST QUALITY - Our bulbs are UL Listed and RoHS compliant to the highest possible industry standard with a CRI index of over 80.. 630 Lumens. Each is a true 60 watt equivalent while only using 6W of electricity to provide quality lighting that leaves no shadow spots in the room. Besides for saving your money on your electricity bill, our bulbs consistently rank amongst the top tier in terms of eco-friendly, mercury-free, UV-free decorative lighting. Cost effective with easy installation.
COLOR TEMPERATURE - Traditional Warm White Color of an ideal LED bulb with a 2700k color temperature. Modvera bathroom lighting, vanity lighting G25 globe light, with its soft clear glass white light is a far superior alternative to grimy & inefficient incandescent bulbs.
PREMIUM CUSTOMER SERVICE - Have LED technical questions or need design advice? Feel free to call, email or Tweet at us any time. Designed, Supported, and Engineered in Columbus, Ohio.