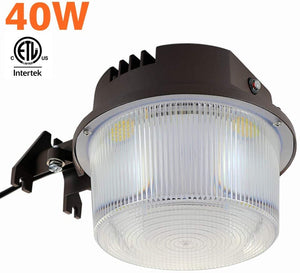 Shine Tech LED Security Area Light 40 Watts - Barn Light Dusk to Dawn with Photocell - Ultra Bright Yard Light 5500 Lumens, 5000K, 400W Incandescent or 150W HID Light Equal, 5-Year Warranty
Regular price $29.99 Sale
➽ UPC: 682863369472
➽ LED BARN LIGHT DUSK-TO-DAWN SENSOR:– LED Barn Lights by Shine are great for use not only in or on barns but in homes, on porches, or even on walkways for consistent illumination no matter where you need it. Each of these light lamps comes with a dusk-to-dawn photocell sensor to ensure that you will always have light where you need it and when you need it. Build-in photo controller for dusk-to-dawn timing. Photocell powers the fixture.
➽ ENERGY EFFICIENT & LONG LASTING – Eco-friendly LED lights and dusk to dawn photocell saves you money by reducing energy consumption by 88% in comparison to traditional mercury vapor lights and automatically turns off during daylight hours. Also, the ShineTech Lighting LED area light has a 50,000 hour life span, which is approximately 14 years!
➽LARGE LIGHT AREA: –With the ultra-bright 5500 lumens of brightness and 5000K light color, it will give you a lot of light! We recommend mounting the barn light at a height of 30 feet, and the light coverage would be 107ft in diameter. Perfectly replace your traditional barn light with larger coverage. Dusk to dawn feature, auto-on at dusk and auto-off at dawn, saving cost and energy.
➽ EASY INSTALLATION & UPGRADE: – Easily mounts to a wooden post, pole or wall using 2" lag screws, which are included. Also, can be mounted on a 2" diameter elbow mounting arm, which is not included. Typically will fit onto your old high-pressure sodium yard light mounting arm, which makes for an easy upgrade.
➽ 5 YEAR WARRANTY & SUPER BRIGHT & SAFE: – We have you covered! 5 year warranty if anything goes wrong. ShineTech 40W LED yard lights to provide stunning 5500 Lumens high output brightness and guard your barn, storage place, and other outdoor valuables with this ultra-bright energy saver. It replaces power-guzzling, high-wattage, short-lived incandescent Light 400W or 150W HID Light and will save you thousands of dollars on electricity bills.